How to register for the provident fund?
Generally, companies HR will take care of PF registration along with ESI medical services insurance and other facilities.
How to find out how much I've got saved?
All your EPF details are available on the EPF India website- www.epfindia.com. With the introduction of the UAN (Universal Account Number), you can now access all EPFO (Employees Provident Fund Organization) facilities online. You can also check your EPF details with your EPF account number.
How to check EPF balance?
You can cheek EPF balance by visiting an official website of employee provident fund of India. For checking PF balance,EPF claim status and provident fund status, be ready with PF no., name and Mobile number.
Steps of checking EPF balance
Visit epfindia.com
Read interaction on the website before clicking on PF balance option
Click on the EPF balance check option and A new page will appear for Member Balance Information
Select the PF office state from the drop down menu for States
Select the EPFO office from the list appeared and click it
Now enter PF number, mobile no, name as per the document
Fill up the details
Click and agree to check your balance status
You will receive an SMS showing your EPF account balance in your mobile.
Different ways to check EPF balance
1. Check EPF balance by SMS
The EPFO introduced EPF balance check via SMS in the year 2015. Please note this service is available to those who have activated their UAN number. To get EPF balance status by SMS, you should use only your UAN registered mobile number.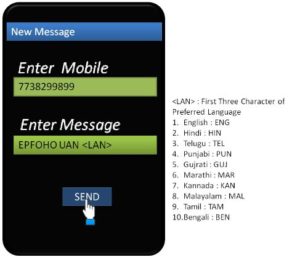 Just send SMS as EPFOHO UAN <ENG> to 773 8299 899 from your UAN Registered mobile number. You can check EPF balance details in different languages like Hindi, Telugu, Tamil, Bengali etc. To receive message in the Hindi language, change the language code to <HIN> instead of <ENG>
NOTE: UAN (universal account number) is mandatory to check EPF balance through SMS from registered mobile number.
---
2. Check EPF balance through missed call service

The EPFO introduced EPF balance check via missed call in the year 2015, its very convenient for mobile users without the internet. Just give a missed call on 01122901406 from your UAN registered mobile number. Once you give a missed call, you will receive an SMS in few minutes. The SMS will contain your member details and EPF account balance.
---
3. Check EPF balance through android app
The third service launched by the EPFO is to check EPF balance is EPFO Mobile App. Various EPFO Mobile Apps are available at Google play store for free.