How to check EPFO Claim Status- PF Claim Status Enquiry and Update Online
You can check your EPFO claim status online with few clicks and details. Online provident fund claim facilitate to track the position of your pf withdrawal application. No more visiting EPFO offices to know the status of your claim.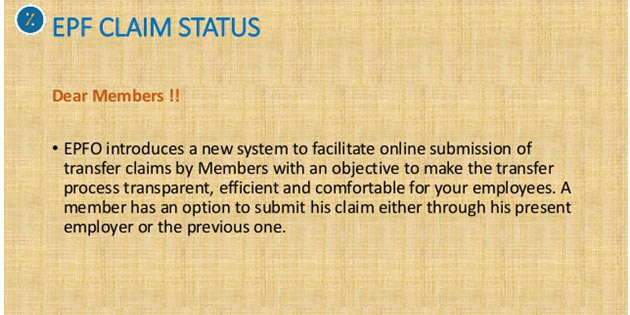 EPFO is offering variety of offline and online facilities for employees and employers with the digitalization advancement. The only detail you need to track status is your PF account number. This will help you to know your EPFO claim status submitted to any office across country.
Many employees are changing job and claiming to withdraw the EPFO amount accumulated. After placing claim, you do not need to spend extra time over checking it at the EPF office. You can know the status of your EPF claim in few seconds by few clicks. You just need to know the appropriate page of EPFO where you can get this detail.
What you can do with EPFO Claim Status Facility?
You can view your EPFO claim status online and avoid hassles of visiting EPFO office.
Check your PF balance.
The status of the EPF claim is updated as and when any action is taken at EPFO office.
Now you can just go through the simple process of checking the position of your PF claim.
How to Check EPFO Claim Status Online?
Visit the official KYCS (Know Your Claim Status) page at EPFO site- http://www.epfindia.gov.in/site_en/KYCS.php
Click on above link and follow the option of 'Click Here for Knowing Your Claim Status' at this page.
Select your state and give a click on: 'Search for Establishment Code' link.
Choose the region of your EPFO office from the drop down.
Now you will see the complete list with establishment code will appear on the screen.
Establishment code is a numerical part of your 7 digit member Id. It is also further enhanced with 3 characters which are known as extension code.
If your EPF account number does not have any extension code (3 digits), just leave the field of extension code blank.
Fill up the region code and office code.
Enter Establishment code and Establishment code extension in the related fields.
Enter your provident fund account number.
Click on Submit
Now you will get your EPFO claim status. The screen will show the status messages as applicable to your EPFO claim. If you do not want to check the EFPO claim status online, you can download the form online. Fill up the above details in the form and submit it at the EPF office. You can also get the form at the EPFO office itself.